Every Wednesday, 9:00 AM - 11:00 AM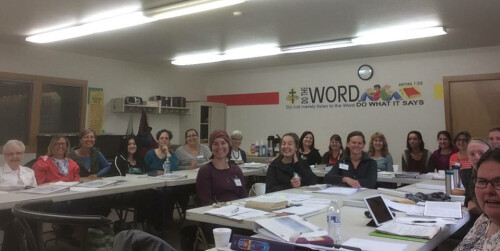 Ladies you are invited to join us this year as we go through the New Inductive Bible Study together, beginning September 05, 2018. Wednesday mornings here at FBC, with facilitator Kathleen Esterly. (360) 545-7647
I would like to personally invite you to prayerfully consider learning How To USE the Inductive Study Approach. If you know there is more to the Word of God than you have discovered so far... If you sense there must be concrete answers to the complexities of life... If you want a bedrock faith that keeps you from being tossed around by conflicting philosophies in the world and the church... If you want to be able to face the uncertainties of the future without fear... ....then The New Inductive Study Bible bible study is for you.
God's eternal, infallible Word is your guidebook for all of life, and inductive study gives you the key to understanding that guide.
The inductive study is a method that brings you directly to the Word of God apart from another's understanding or interpretation of the text, involves three skills: observation, interpretation, and application.
When you know what God says, what He means, and how to put His truths into practice, you will be equipped for every circumstance of life. Ultimately, the goal of personal Bible study is a transformed life and a deep and abiding relationship with Jesus Christ.
Please don't hesitate to contact me if you'd like to learn more about the Inductive Study Approach.
God bless each one of you for your faithfulness to studying God's word.
Kathleen Esterly springcreekcottage.com
(360) 545-7647
(360)432-0656