Every Sunday, Friday, Saturday, from 08/18/2017 to 08/20/2017, 12:00 AM - 1:00 PM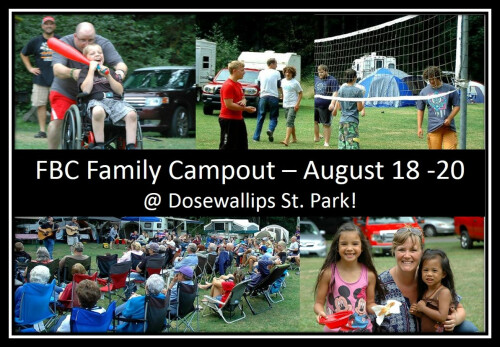 REGISTRATION BEGINS JULY 30!
If you haven't been before, here is a look at what to expect.
FBC Reg. Fee $20 per family
ST Park Overnight Fee. $10 per vehicle/per night [ DAY pass does not apply]
GROUP CAMP Field :
Dry Camping / water / restrooms / showers near by.
RV / Trailers / Tents / generators ok.
River / trails / bike riding / campfires & more
Family or shared meals [ group meal on Sat. eve only]
Friday: Arrival / check in 1 pm – 9 pm…
get there when you can. Set up your campsite, visit others … play games
7 pm: Group Get To Know You Activities…
Welcome 1st Time Campers!
Saturday:
continuation of getting together with other campers enjoying the day..
Playing games / visiting / eating / going to the river or waterfalls nearby
Squishy Ball, Beanbag Baseball, Volleyball, and other fun games for every age group!
6 pm POTLUCK & Campfire fun…
Overall Relaxing and getting together is the goal!
Sunday, enjoy the morning… Check out by 1 pm.
NOT able to Camp? Just come out for FUN on SAT. and stay for the POTLUCK! [St. Park Day Fee $10 per vehicle or DAY Pass]
We hope you'll join us! Feel free to contact Natalie Hamilton with questions. 426.8461