PASTOR SHEPHERD ELDER SMALL GROUPS MINISTRY MISSIONS GLOBAL / LOCAL COUNSELOR FAMILY MINISTRY DISCIPLESHIP MINISTRY SENIOR ADULTS MINISTRY FRIEND.
God has used Pastor Glen in multiple ways, ministering to the family of FBC and we will miss him & Lisa dearly. Please plan to join us in Celebrating Pastor Glen & Lisa, Friday, May 21. 6:30 pm. at FBC.
Pray for Glen & Lisa to find a new church home, as well as be blessed in their new life journey and ministries.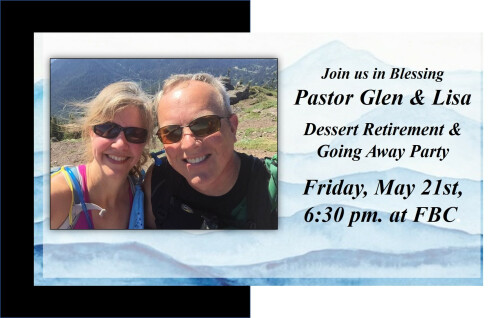 January 19, 2021
Dear Church Family,
It is with significantly mixed emotions that I let you know of Lisa's and my decision for me to retire from vocational ministry. Mixed emotions meaning a combination of joy over the next chapter of our lives and sadness over departing from a position that God has blessed us with for almost 23 years. I have loved being one of your pastors and you are our family.
The first thing I want to clarify is the reason why. Simply stated Lisa and I strongly sense the Lord calling us to a new ministry in counseling independent from vocational ministry. Some of you know that before coming on staff in 1999 I was heading towards a career in counseling when God called us into ministry. I walked away and burned all bridges with that path as God clarified our calling to join the FBC staff.
I would have never guessed that all these years later God would call me back to that path, but He has. Over these past few months through much prayer, seeking counsel, including the pastors and elders of FBC, we have clarified this new calling and will be joining a Christian counseling team in Wenatchee, WA.
I can't express strongly enough how much I/we believe this is a God thing. There are no issues, no relationship strains and our love for this church family is firm. In fact, we feel so blessed that if God is going to call us out…we are called out during a beautiful season of this church's history. From that I trust there will be blessings for us and for this church family. It can't be over stated, these past few years have been some of the most joy filled years of our ministry at FBC and we are so thankful to God that it is under these conditions that He chose to call us into a new chapter.
The timing of our departure will be in the late Spring as we sense the need not only for Lisa to finish the school year with her class but a longer transition out for me helps to bring closure for all of us, especially with a significant portion or the church still at home due to Covid.
If you have any questions regarding this news please feel free to approach us. We are excited about the prospect of what is coming…new adventure, new challenges, etc. We firmly believe God's blessing will not only be on our family, but His blessing will be on this church family through this transition as well.
Please be praying for us during this season. Transitions like this are filled with logistics such as buying and selling of houses, packing and moving, etc. A specific prayer for me would be for grace as I study to pass a national board exam for my Mental Health Counseling license. Prayer for Lisa to be led to her new teaching position in the Wenatchee area. Also, be praying for the FBC leadership as they seek God's counsel on restructuring staff through this transitional season.
I can't tell you how blessed Lisa and I feel over the pleasure of having served this church family for so many years. You are an amazing, loving generous family and our hearts will always be with you.
God's blessings on all,
Pastor Glen & Lisa