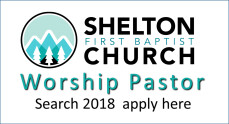 Shelton FBC Worship Pastor Employment Application
Shelton FBC Employment Background Check.
Worship Pastor, Shelton First Baptist
Shelton, WA United States
Church Size 500+
Job Type: Full-Time
Who Are We Looking For? - A person who loves Jesus more than anything. A person who is passionate about using their ability, experience, and creativity to lead people hungry to experience more of God through music that centers on Him.
Here are at least three particular areas of ministry where you would need to do well:
Music Ministry - You have to be really good at music. Of course! You would help to form and shape our worship culture through the excellence you bring to singing and playing; the style you bring; and the songs you will lead us to sing. You'd also use your creativity in the arts and multimedia to enhance our worship experiences.
Pastoral Ministry - We want you to view your ministry through the lens of pastoral ministry: working alongside our pastors to lead our church in making disciples, especially raising up others to do what you do; working with and building our existing team members; and actively working with the youth to raise up a new generation of worship leaders and team members.
Technical Ministry - We would like to have someone who has a solid grasp of worship technologies. Someone who can also train, empower, and oversee our volunteer base in this ministry and will run point on updating and maintaining our audio/video technology.
Who Are We? - Don't let the name fool you. Though we are "Baptist" in name and heritage, our church is filled with people from all different denominational backgrounds. We have a vibrant multigenerational church that God is using to impact our community in wonderful ways. Here's the most important thing you need to know about us: everything we do here has the gospel of Jesus at the center.
Where Are We? - We are about 20 minutes outside of Olympia Washington, in a cozy city called Shelton. As the gateway to the Olympic Mountains, this is one of the most beautiful places ever. If you love the outdoors and adventure, you'll want to live here. We have miles and miles of shoreline including lakes, rivers, and the Puget Sound. Sometimes it gets a little overcast, but the new growth each spring, the bright sunny summer days, and the beautiful autumns make the wet winter a distant memory.
Some Important Details
Your Faith - All of this assumes that you are a dedicated follower of Jesus, meeting the criteria of servant leadership found in places like 1 Timothy 3:1-13, and that you work really well with others.
Your Music Style - We don't have traditional music, though we like how artists have incorporated the old hymns with new sounds. We prefer the new without the superficiality... and we don't plan on having smoke machines anytime soon!
Your Education and Experience: Though education is preferred, it's not essential if you have experience. Experience is a must though.
Your Compensation: $55K+ depending on qualifications.
Your Application: In addition to the basics like a completed application for employment, cover letter, resume, references, and summary of your faith story (one-page max), please submit other things that will help us get to know you and your ministry, such as those listed below. If we like what we see, we'll contact you for further evaluation.
Your Philosophy of Musical Worship (one paragraph)
Video of a service that you planned and executed.
Audio/video clips of you leading worship.
A selection of original songs you've written and performed.
A chord chart or arrangement that you've created.
A list of your favorite bands, including non-Christian music.
Any other creative art or media you've worked on.
Shelton FBC Worship Pastor Employment Application
Shelton FBC Employment Background Check.
Please send your response to