Every Sunday, 10:30 AM - 11:00 AM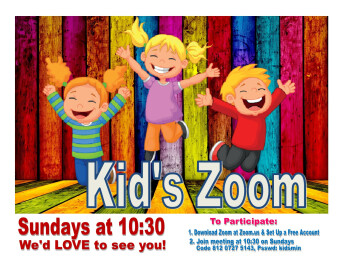 KID'S ZOOM Sundays at 10:30 am
Hello Families with Kids!
We would love to see your kids on Sunday mornings at 10:30 a.m., Login to Zoom and we will have an interactive Kids' Sunday School Class. Please help your kids participate so they can connect with their church community and know that they are loved and special to us.
To participate:

Download Zoom at Zoom.us & set up a Free account
Join our meeting at 10:30 am on Sundays
Code 812 0727 5143, psswd: kidsmin
Q: Contact Anne-Marie Nakhla Director of Children's Ministries.