Saturday, April 21, 2018, 7:30 AM - 1:30 PM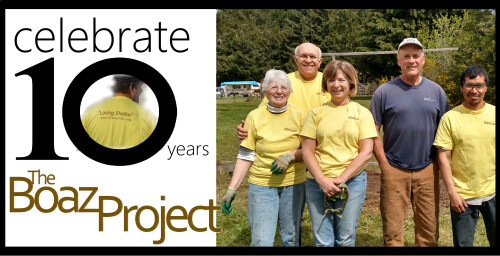 BOAZ PROJECT: SATURDAY, APRIL 21! Celebrating 10 years!
7:30 am Continental Breakfast & Team Assignments | 8:am Out to do Ministry Projects | 12:30 Lunch @ FBC with Door Prizes & Testimonies
Over the past 10 years we have seen YOU the body of Christ in action, loving our community, and the church family! Our annual day of caring has been set for Saturday, April 21, 2018! Volunteers gathering together to provide small helps to members of our church and others in the community. It is a family affair with plenty of opportunities for adults and kids alike!
PLEASE plan to join us as we hope to have over 100 people come together and participate. ALL Skill Levels Welcome. Individuals, families, small groups.
Visit our Table to learn more and SIGN UP on Sunday this April 08-15 ! You will be glad you did. Q's contact Gerry & Doris Zacher at 360-462-0269.